Floractive Profissional Nano Plastia Treatment (120ml)
No cleansing shampoo required.
One Sep Hair Reconstructor
Nanoplastia Technology
Intra-cellular repair
Order Now! Only 4 left in stock!
100 % Genuine Products
6 Point Quality checked by us
Fast Shipping
All orders are shipped in 1-3 business days.
COD Available Now!
Order Now. Pay on Delivery :)
With Next Day Delivery
Want it on December 12? Order in the next 14 hrs 24 mins 43 secs and Pay Online Now.
Komal / Replies in 3 mins
Need Help? Contact Us via WhatsApp
Description
Floractive Profissional Nano Plastia Treatment (120ml)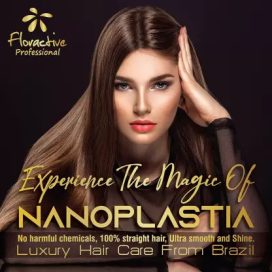 W One Premiun Nanoplastia Floractive Profissional Nano Plastia Treatment
DESCRIPTION
It is a Product enriched with hydrolyzed Keratin essential amino acids hydrolyzed wheat protein and the exclusive ozone protein plus coconut oil treatment enhancing the absorption and hydration aiding in the reconstruction of hair fiber leaving hair Straight, Shiny, and with no frizz Irs blend of organic acids have been perfectly balanced to give 100% straight results on the toughest type of hair.
About the Treatment:
Nanoplastia is an innovative hair restoration treatment. It is an effective method of straightening that provides a healthy appearance. The formulas for this procedure is rich with amino acids, which, under the action of temperature, penetrate the cortical layer of the hair. Therefore, the structure of the hair becomes strong
No cleansing shampoo required.
One Sep Hair Reconstructor
Nanoplastia Technology
Intra-cellular repair
PROCEDURE: Floractive Profissional Nano Plastia Treatment
1. Consultatton & Diagnasts
2. Wash the hair only if the hair is greasy, oily or any styling product has been used. Rinse with water and 100% dry,
3. Most of the hair with Serum illuminator, only in chemical created/colored/sensitized hair.
4. Don't use on healthy/virgin hair.
5. Apply W-One treatment leaving 1″ from the roots. Take 40 ml of treatment & start with nape area (Dab-Dab- Smooth Method)
6. Let the product saturate for 60 to 90 minutes according to hair texture
7. Rinse 10% of the product at the backwash.
8. Moist the hair with a Serum Illuminator, only in chemical treated /colored/sensitized hair.
9. Dont use healthy/virgin hair
10. Blow-dry the hair 100% [medum heat ony)
11. Iron the hair 15 to 20 times, taking thin sectons: froResistantoHairs
(Healthy/Virgin/Curly/ Resistant – 230 C- 21O C)
(Wavy/Coloured/Normal hair – 210 C- 190 C)
(Sensitized/Chemical-treated/Damaged hair – 190 C- 170 C)
12. Leave for 5 minutes. Let the hair come to room temperature.
13. Rinse the hair, treat the hair with Marroco Gold Plus Mask. keep for 15 minutes & rinse
Blow-dry as desired.
(On Healthy/ Virgin/ Curly hair Its advisable to wash on next day)
W.One Premium is a straightening treatment with just one step, very practical and fast, as it is not necessary to wash the hair before applying the product. This reduces the procedure time up to 40-60 minutes. W.One Premium was developed to promote intracellular nutrition with nanotechnology. Its effect reconstructs the fiber, leaving it shiny, frizz-free with a long-lasting smooth effect.