SALE!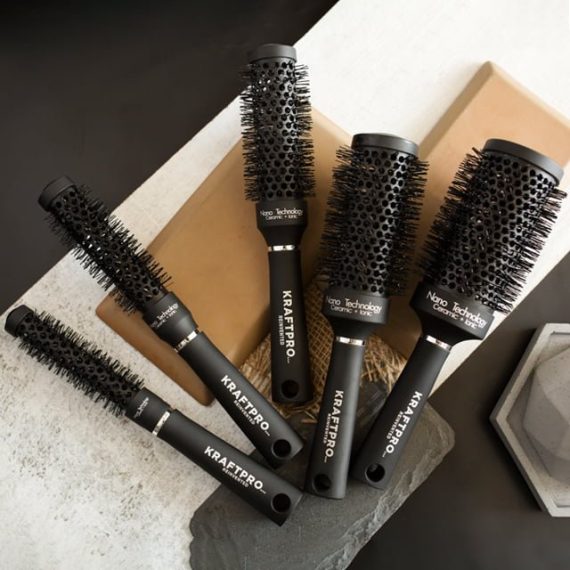 Kraftpro 25MM Ceramic Brushes
Kraftpro 25MM Ceramic Brushes provides maximum handling comfort
Narrow neck design for low tension on arms

Reduction of static for a shiny finish

Cap-less barrel design for smooth operation


Smooth ergonomic design for handling comfort

Black matte finish on the handle for extra grip

Carbon anti-static bristles for a smooth use


Ceramic coating on the barrel helps retain heat and distribute it evenly
Order Now! Only 3 left in stock!
100 % Genuine Products
6 Point Quality checked by us
Fast Shipping
All orders are shipped in 1-3 business days.
COD Available Now!
Order Now. Pay on Delivery :)
With Next Day Delivery
Want it on June 8? Order in the next 02 hrs 1 mins 55 secs and Pay Online Now.
Komal / Replies in 3 mins
Need Help? Contact Us via WhatsApp
Description
The Kraftpro 25MM Ceramic Brushes, the ultimate styling tool for professional stylists and users alike. These brushes feature a narrow neck design that reduces tension on the arms and eliminates static for a shiny, smooth finish.
The cap-less barrel design ensures a smooth operation every time. The ergonomic design of these brushes provides maximum handling comfort, allowing you to style with ease. The black matte finish on the handle provides an extra grip, ensuring that the brush stays in your hand even during the most demanding styling sessions.
The carbon anti-static bristles in these brushes guarantee a smooth, snag-free use. The brushes glide through hair with ease, leaving it shiny and frizz-free. The ceramic coating on the barrel helps to retain heat and distribute it evenly, making styling faster and more efficient.
Whether you're a professional stylist or a user at home, these brushes cater to all your styling needs. The range of sizes available ensures that you can find the perfect brush for any hairstyle. The durable and long-lasting design ensures that these brushes will be a staple in your styling arsenal for years to come. Upgrade your styling game with the Kraftpro 25MM Ceramic Brushes and experience the difference for yourself.