Advantages and Disadvantages of Keratin
Advantages:
A keratin hair treatment is a time-saver for those who usually style their hair straight. The treatment can shorten the blow-drying time by 40-60 per cent!
Those with unmanageable hair can say goodbye to frizz and roughness. Hair remains straight, smooth and frizz-free even when the weather gets humid.
Keratin coats your hair strands and offers protection from sun and environmental damage.
Keratin helps rebound and strengthen hair, making hair strands resilient to breakage.
There's minimal upkeep involved and you get to enjoy luscious soft hair for up to three to six months depending on the treatment you opt for.
A keratin hair treatment every few months is less damaging than the effect heat styling every day has on your hair.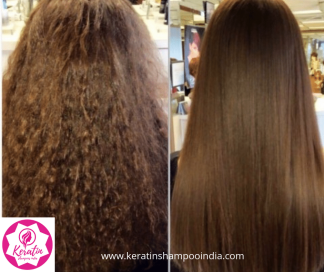 Disadvantages:
In the case of formaldehyde treatments, formaldehyde exposure poses the risk of allergic reactions and respiratory problems. Long-term formaldehyde exposure is also linked to cancer. Note that since formaldehyde is a gas, inhaling it poses the greatest risk. As such, some stylists wear masks during the treatment and have the client wear one too.
Increased exposure to formaldehyde and over-straightening hair can lead to hair drying out and weakening, causing breakage and hair fall.
Right after the treatment, hair might appear weirdly straight; get the treatment done a few days before a big event to make the hair appear natural.
You might miss your hair volume after the treatment as your hair will become sleek and smooth.
Hair can turn greasy and limp very quickly in the absence of frizz.
Keratin hair treatments are expensive, especially since they only last for three to six months